Best Organic Cotton Dresses | Our Fave 5 Sustainable Brands
In all the darkness that is seemingly 2020 (no festivals, global lockdown and that little pandemic kicking around), the rise of sustainable fashion and sustainability as a whole is a little glimmer of light that we all can hold dear as the summer rumbles on…
With new brands popping up thick and fast, search engine queries sky rocketing and people wanting to explore smaller or independent brands, no longer is Topshop or Urban Outfitters the go-to it once was.
To kick start a new run of articles (where Goose Studios do the hard work so you don't have to you!), we begin with our 5 favourite brands to snap up your new favourite organic cotton dress from this summer and the next!
(All price correct as of 6th August 2020. All information about the brands is from the brand website & images are owned by the named brands.)
1) ArmedAngels - 
Dutta Organic Cotton Dress - £90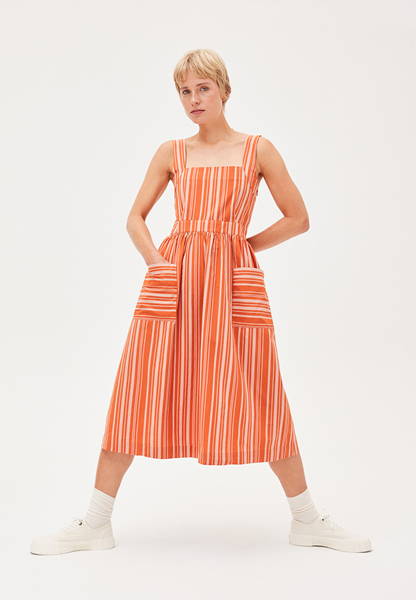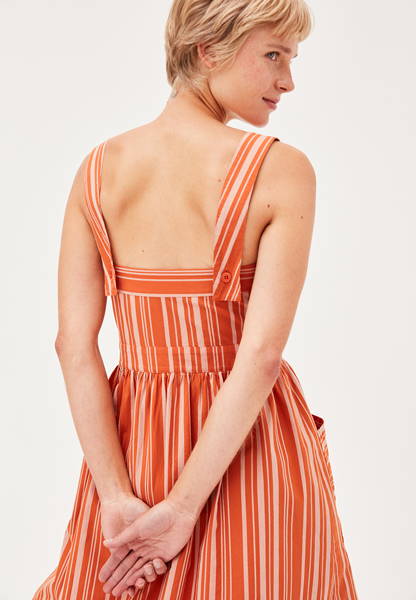 With the sun always making one last hurrah through September and into October, there is still time to pick up a dress that is as cool as it is effortless and ArmedAngels 'Duttaa Stripes' Organic Cotton Dress delivers in spades.
Clocking in just shy of a £100, it isn't the cheapest dress on the list but this 100% certified organic cotton number packs a punch with a super strong silhouette/pattern combo...and who doesn't love an oversized pocket!
While you're on the Armed Angels website, have a little poke around too, as they're pretty awesome across the board. In the wake of the coronavirus pandemic, Germany cut its VAT rates by 3%. Rather than pocketing the added profit, Armed Angels decided their additional 3% profit would be better spent on supporting initiatives helping fight climate change and other environmental concerns within Germany.
Whilst this is limited to only their German customers, such forward thinking business practises, (even on a local level) is pretty bloody cool and a testament that Armed Angels are brand doing something right.
2) Monki - 
Oversized Organic Denim Shirt Dress - £45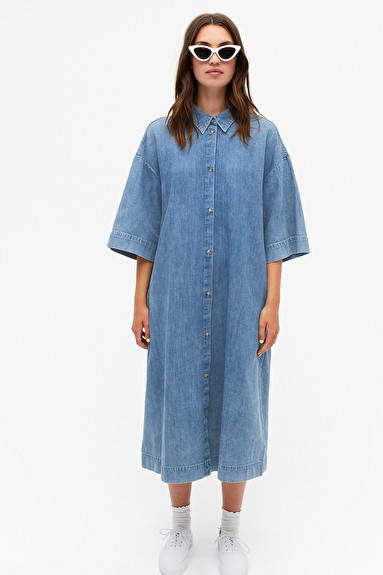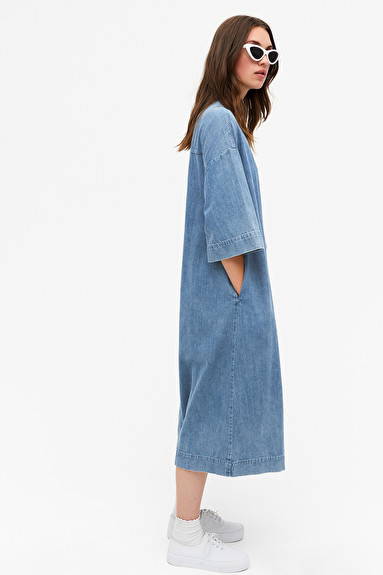 As we trawled through website after website, there was always one thing we wanted to sneak onto this list – a denim dress that is as organic as an apple that's just fallen from the tree and Monki has nailed it!
Whilst they have a wide array of other dresses made from organic cotton in their Monki Cares range, this oversizedorganic denim shirt dress is a standout piece from their SS20 collection.
Coming in at a wallet friendly £45, this oversized, mid-length dress with hidden pockets and some of the coolest sleeves we've seen since the bell bottom sleeves that filled the dance-floors of the 70s, Monki have nailed it with a dress that can easily be worn into the cooler months that are just around the corner.
Monki, similar to Weekday who feature also on this list, do rub some up the wrong way as they come from the H&M family, a brand hardly renowned for strong environmental practises.
Yet Monki come with some lofty targets when it comes to making their products and practises as environmentally friendly as possible – from banning toxins in their production chains to factories and warehouses all being powered from renewables.
3) ADVA (Sold on Know The Origin) - 
Organic Cotton Rib Dress - £120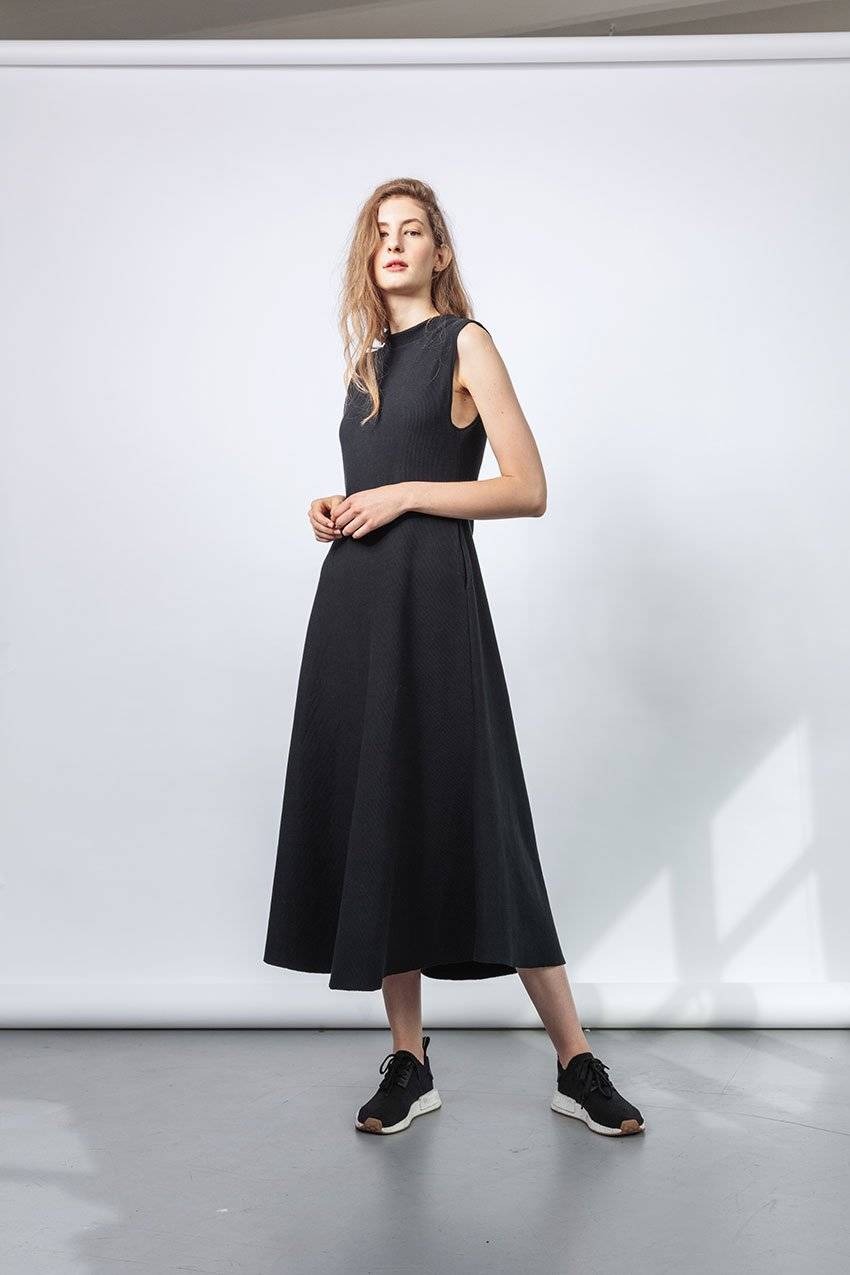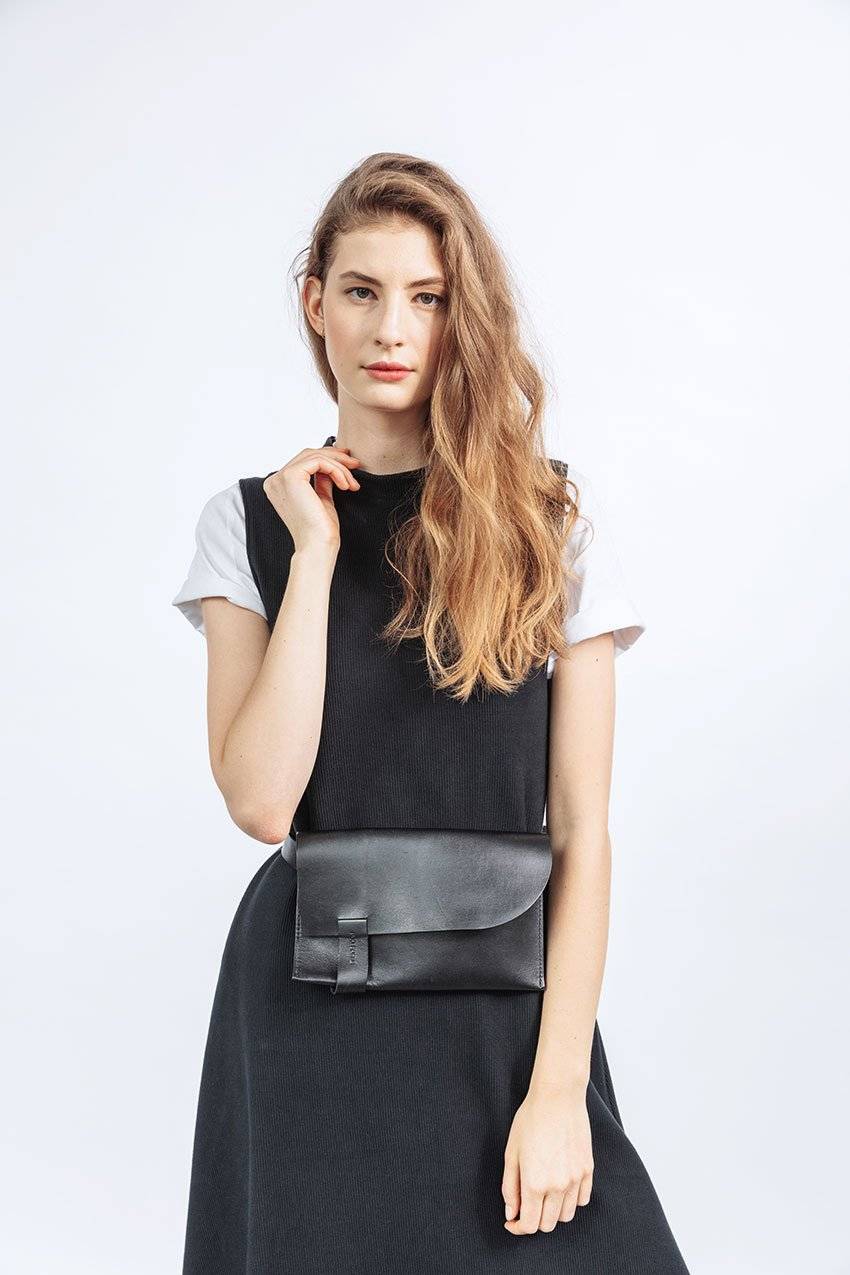 If there's always one thing that can be tricky to hunt down – it's a dress that can be worn both in August and in December. However, we left no stone unturned, so please step forward ADVA with their organic cotton rib turtleneck dress.
Now we won't lie, it's the most expensive dress on this list coming in at a potentially steep £120. But whilst expensive, this 100% GOTS (Global Organic Textile Standards) organic cotton A-line dress, cut to the calf, has all the hallmarks of a timeless classic. With a classic silhouette, this dress would look as good down by beach in that late summer sun as it would layered up with some chunky boots on a crisp Sunday walk in those dreaded winter months.
The price becomes more than justified (at least in our opinion!) when you realise that all ADVA garments are hand sewn by one of the two seamstresses here in the UK. With a production line that very rarely ventures outside of Europe, here you've got a product with strong sourcing and an even greater passion for quality and durability.
Whilst for Know the Origin, their remit is to collate some of the best eco-conscious brands around so you don't have to. With a strong sense of self and a thorough vetting process, 
Bringing together brands with the only the strongest of ethical credentials, transparent product tracing and various social initiatives for the communities making products. In short, this Manchester based company is growing at a rate of knots, becoming your one-stop shop for the very best ethically sound products.
4) Thinking Mu - 
Organic Cotton Shirt Dress - £90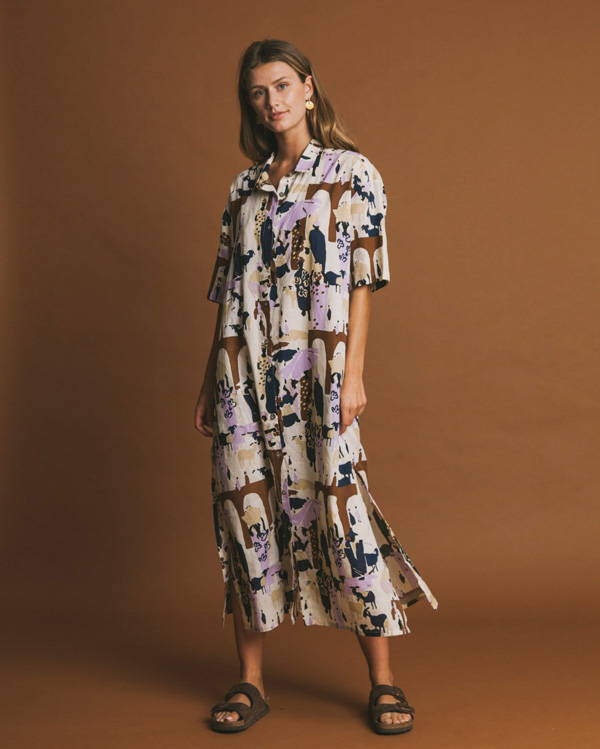 Thinking Mu are the kind of brand we at Goose Studios long to be. Coming out of Barcelona, they are already based in one of our favourite cities and their business ethos is equally on point.
Founded by four friends, Thinking Mu approach clothing design with a closed loop (no waste) system at its heart and advocate that fashion can be used to stimulate social change for the good. Favouring traditional methods like hand screen printing and embroidery as two ways to bring a little bit of artisan flair to their organic cotton collections.
The success of this combination of quality and authenticity is apparent giving that nearly their entire SS20 organic cotton dress collection is nearly all sold out on their website!
Whilst available now in only limited sizes, their Belted Organic Cotton 'Mandy' Shirt Dress is similarly priced as the Armed Angels dress but with the use of water based biodegradable inks to create a beaut pastel printed pattern, the Mandy dress brings a real sense of organic sophistication to an already classic cut, belted shirt dress.
Also, with the garment being made from GOTS organic cotton, you've got the peace of mind of knowing that this dress is fertiliser and insecticide free whilst you're looking pretty damn fine at your favourite socially distanced roof terrace or pub garden!
5) Weekday - 
Regan Organic Cotton Dress - £55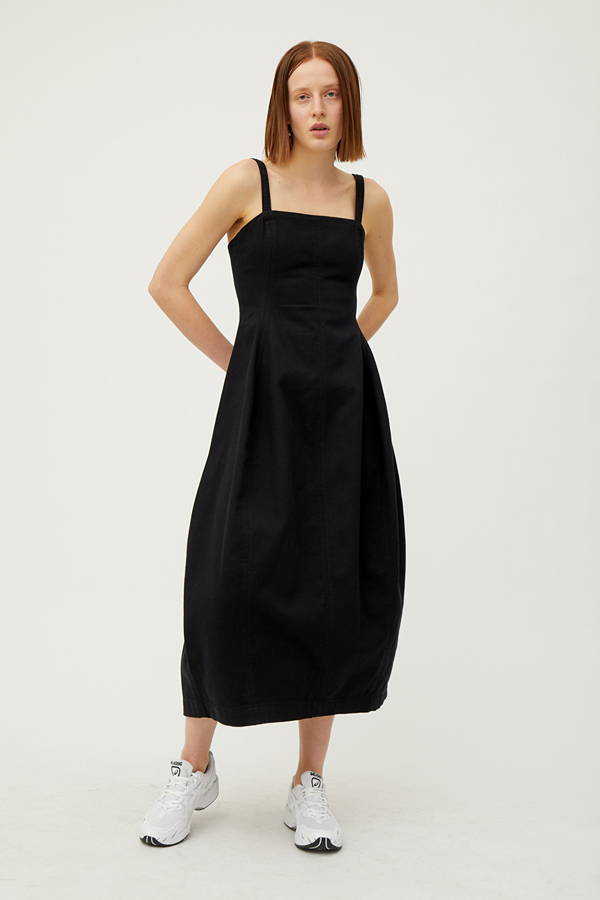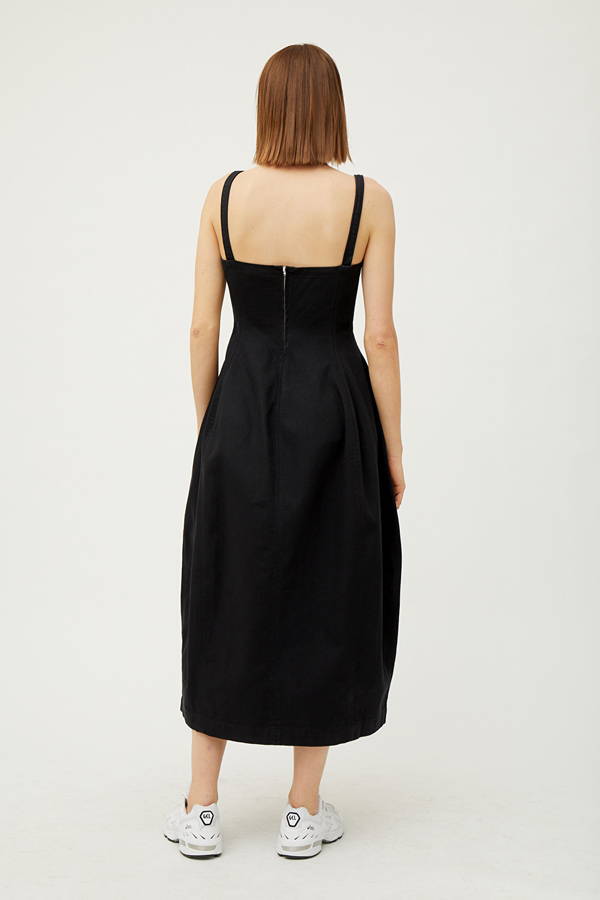 Whether it'stheir Huge Organic Cotton T-Shirt Dress for £18 or the Kai Organic Cotton Dress in Lilac, which for just £25 marriestogether a loose silhouette with an 80s inspired power look of shoulder pads, Weekdaydelivers at a great price point. But the winner for us is the Regan Organic Cotton Dress pictured above.
Maybe not as winter proof as the ADVA dress, the Regan Organic Cotton Dress at £55 is a steal in comparison. Made with a slightly ribbed texture, the simple top half of the dress gives a more structured fit before making way for a wider, pleated mid-length skirt.
Available only in black (presumably the Berlin market is a big hit for Weekday), this dress brings versatility to the table in leaps and bounds.
Summer sun? CHECK. Autumnal vibe? Team it up with a jacket and scarf - CHECK. Winter is here? Layer me up and give me a mulled wine by the fire – CHECK. And for all you Normal People fans out there, we think it has a little bit of a Marianne in Italy vibe about it too…? Or maybe we are still just lusting over the Irish romance that made our lockdown worthwhile…
Like Monki, Weekday is a brand that divides opinion. As part of the H&M family, Weekday commits to the same H&M business targets as its parent company; climate positivity by 2040, increased dialogue with factories workers and maintaining factories to a standard they feel is safe and just. Rightly, you can argue that these claims are untrustworthy and that H&M is a bit of wolf in sheep's clothing.
Equally though, at least in Weekday and Monki you have two companies who are using their exposure to fast fashion scale to bring organic and better produced clothing to a fast fashion audience. It isn't perfect but maybe it's a start…
And there we have it! In our opinion, some of the coolest organic cotton dresses around! Thanks for stopping by Goose Studios and be sure to pop back soon as we continue doing the research so you don't have to for all things organic cotton.

Whilst you're here, be sure to check out the Goose Studios range of organic cotton clothing below - thanks!
---