My 10 of The Best - Rich Smith
Welcome to the Goose Studios new and improved '10 of the Best' feature!
Instead of bringing you 10 songs loosely curated around a theme, we want to deliver to you a little insight into some of the people who have helped us out along the way and the music that they hold close. Not so much Desert Island Discs, more Goose Nest Faves.
Whether they have taken a turn in front of the camera or helped us out behind the scenes, over the coming months '10 of the Best' will hopefully take us all on a journey as we come to understand what makes some of our best pals tick through the music that they hold dear.
So strap yourself in as first up into the firing line is our co-founder, Rich with his favourite 10 albums…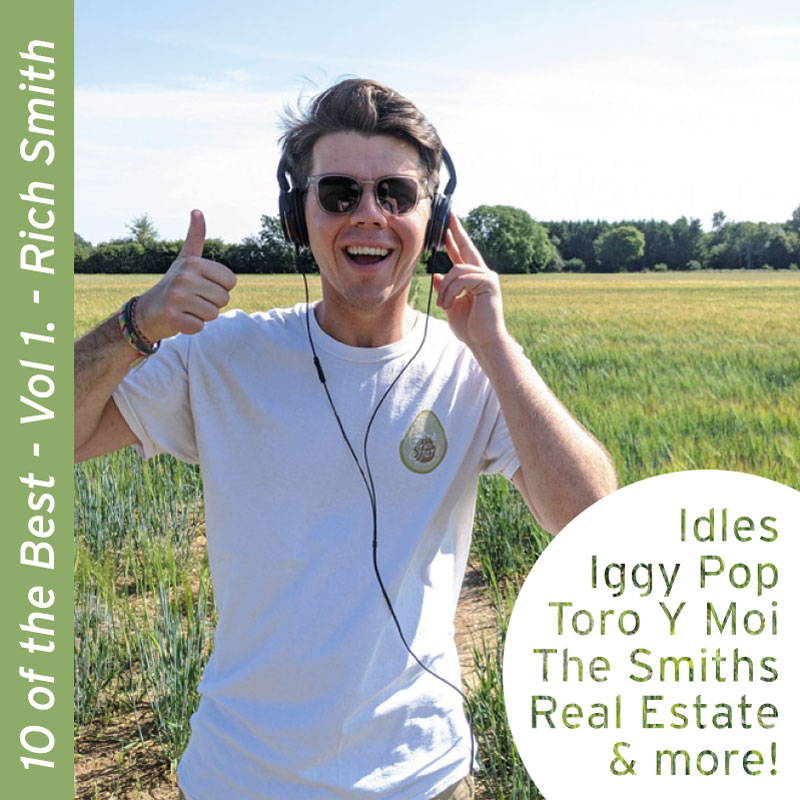 Hello! I'm Rich and I am the co-owner of Goose Studios. I like walking in the countryside, banana bread and I want to own a campervan AND a dog.
If you follow on us on Instagram (and you really should - @goose_studios), you may recognise my face and my ever increasingly large hair presence in our recent 'Danceolation' feature where I incessantly bugged you and force fed you music to make you dance for the first 75 days of lockdown. If you don't follow us on Instagram, then you may recognise me from the occasional reluctant turn in front of the camera when we've got some new tees coming out.
I always find it a little strange when someone says they don't really like music. I kind of go away thinking what else they may not like – chocolate? Holidays? Fresh air?! I say this because I am one of those arseholes who will say that I enjoy listening to ALL types of music. Yep, one of them. But there is some truth to it; however clichéd that may be. From Nils Frahm to Dua Lipa, Sister Sledge to Idles, I really do like it all. I am even a little fond of the occasional Take That track (These Days is a pop masterpiece. Swear down) but we admit that quietly.
Music though and in particular the pursuit of live music as really shaped like the last 15 years of my life. Growing up, again I used to be one of those guys. A band member… It was some indie 7 piece where we bopped around Oxfordshire and on a few rare occasions ventured to London Town to play in front of like 20 people. I won't lie, it was brilliant. From supporting the Mystery Jets to being able to get into the occasional free festival, it was stupendous amounts of fun.
During the mid-00's, Oxford had a thriving music scene and as I grew up in a village in rural Oxfordshire, my poor parents would have to ferry little ol' me and my friends to the now defunct Zodiac on the Cowley Road to go and see some incredible gigs. I've only ever seen the Arctic Monkey's once and it was for £8, a month before they released I Bet You Looked Good on the Dancefloor. 
Or catching Adele, who was first on supporting Jack Penate on his first headline UK tour. It was me, my friends and about 30 other hardy souls in a 200 capacity venue who got there for when doors opened. Gigs like that are proof that you should all go and see every band on a bill, just on the off chance you can have your own 'I was there' moment.
Some albums sound track a period of your life but they don't quite grow up alongside you. For indie Rich, it was The Strokes, The Libertines, Mystery Jets, Larrikin Love, Jamie T and Bloc Party. Bands that were played on loop in the car, on my MP3 player, in my CD Walkman (that's right!).
But sometimes an album doesn't grow with you as you get older, or perhaps it becomes so entrenched in a period of your life that it's almost a relic. Not so much your favourite album but just a cherished teenage memory.
By 2010, my music taste had evolved and whilst live music was still a huge part of what I enjoyed, the Oxford music scene fell away. It was time to seek pastures new. I moved to Brighton in 2012 to go to Sussex University and bar one year where I returned home (and coincidently started Goose Studios!), that's where I spent my next 7 years.
For some, one of their best albums might be that Tinie Tempah album they used to listen to whilst strawpedoing WKD's at a pre-drinks in 2010. Sadly, my significant albums aren't due to such shenanigans. My favourite 10 albums are the ones that have defined the last decade of my life.
Some, like Joy Division's Unknown Pleasures or Iggy Pop's The Idiot, have stuck with me from these teenage years and taken on a greater resonance as I have gotten older. The Idiot is an album that has grown in stature (for me at least!) and has developed into something quite great. Produced by David Bowie, recorded in Berlin and with this amazingly organic and collaborative approach to song writing, The Idiot conjures up this incredible aura around the record that kind of elevates itself well into the 'great' category of albums.
Others like Real Estate and Toro y Moi's respective debut albums sound tracked my University summers and ventures inter-railing around Italy and Spain. The opening bars of either record immediately make me want to be somewhere warm, sunny…with the prospect of a cold beer in sight. They're examples of albums that take you somewhere far away almost immediately, that instigate an excitement and want to escape.
Idles Joy as an Act of Resistance is the most recent album on my list. It represents something much greater in terms of its reflection on society, contemporary Britain and it's issues surrounding immigration, the power of the NHS and toxic masculinity. Of all my favourite albums, this Idles records best embodies a snapshot of a society in flux and all the attached feelings of anxiety and doubt that are oh so common today in Britain.
So yeah, here it is, my Top 10 favourite albums. I won't lie, this was a bugger to pull together. Even as I type this I am thinking about The Streets Original Pirate Material, Tame Impala Innerspeaker and still thinking have I made an error but alas, Top 10 lists are always a shitter to pull together but when that happens to be the biggest issue in your day I guess things are alright given the pandemic and all that…
Thanks for sticking with me though gang. As always a huge thanks for reading and I hope you are as excited to see what other people have in store with their '10 of the Best' over the coming months… I know I am.
Rich x
1) Joy Division – Unknown Pleasures – Disorder
2) The Smiths – The Queen is Dead – I Know It's Over
3) Iggy Pop – The Idiot – Dum Dum Boys 
4) The Velvet Underground – The Velvet Underground – What Goes On
5) Carseat Headrest – Teens of Denial – Drunk Drivers/Killer Whales
6) Idles – Joy as an Act of Resistance – Samaritans
7) Parquet Courts – Light Up Gold – Master of My Craft
8) Real Estate – Real Estate – Green River
9) Toro Y Moi – Blessa – Talamak
10) LCD Soundsystem – Sound of Silver – All My Friends
Quickfire Round
1) What was your first gig?
Maybe seeing a band called The Joy Formidable… All I kind of remember was that it was upstairs at the Zodiac and I must have only recently turned 14.
2) What was the last gig you went to?
Mac DeMarco at the Fortitude Music Hall in Brisbane. Supported by Pond, it's a pretty cool gig to have been able to see before the coronavirus pandemic took hold.
3) Your favourite festival that you've been too?
I've never been to Glastonbury. 2020 was supposed to be the year that cherry was popped. Instead I think I would have to say End of the Road. Really cool site, normally a great array of bands and just a super nice feel.
4) A deceased artist or band you wish you were able to see live?
Joy Division. No question about it.
5) A new artist or band that you would love to see live?
I'd love to see Fountaines DC. I think they are just awesome and sadly pulled out of Truck Festival last year where I was supposed to see them. I am still yet to see Tame Impala but I don't think they count as a new band anymore!
---