10 of The Best - Polly Hanrahan
Next up in our '10 of the Best' collaboration series is the fab Polly Hanrahan!
Polly is a Brighton/London based photographer and the incredible talent behind the lens of our favourite Goose Studios shots.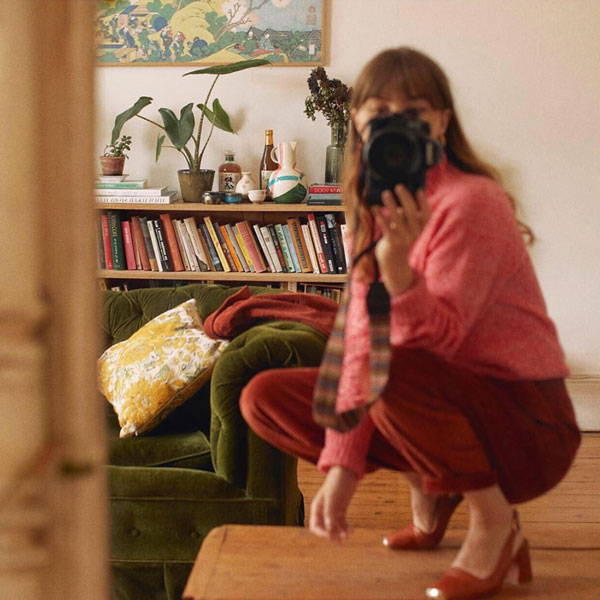 Polly in lockdown rocking a killer look in her beaut home.
Polly's work has a beautiful warmth and charm to it, with colours that would make even Wes Anderson wonder where he can get such a fine colour palette from.
Polly's has damn good taste in pretty much everything. So we thought it was definitely time to get a nose into her Spotify and share her fave albums with the world.

Hi I'm Polly, I am a fashion photographer from Brighton and have worked with the Goose boys on a couple of occasions now...
This was a real head-scratcher. I found it hard to decide whether to choose my most listened to albums, what I'm into now, was important growing up, what I genuinely think is best… So I've split this into categories to make it easier for myself... some might call it cheating!
I chose my two most-listened-to artists, four albums that are nostalgic for me, two more favourites that are recent and then my two favourite albums in the last year.
I know everyone likes to say they have eclectic taste in music, but this is going to be a very random playlist! 
Even with these categories, choosing 10 albums was so hard, so shout out to Blur, Pulp, Rihanna, Solange, No Doubt, Lauren Hill, The Specials, The Cure, The Kills, Haim, The Horrors, Louis and Ella, Aretha, every 90s/ early 00s pop star that I still listen to on repeat!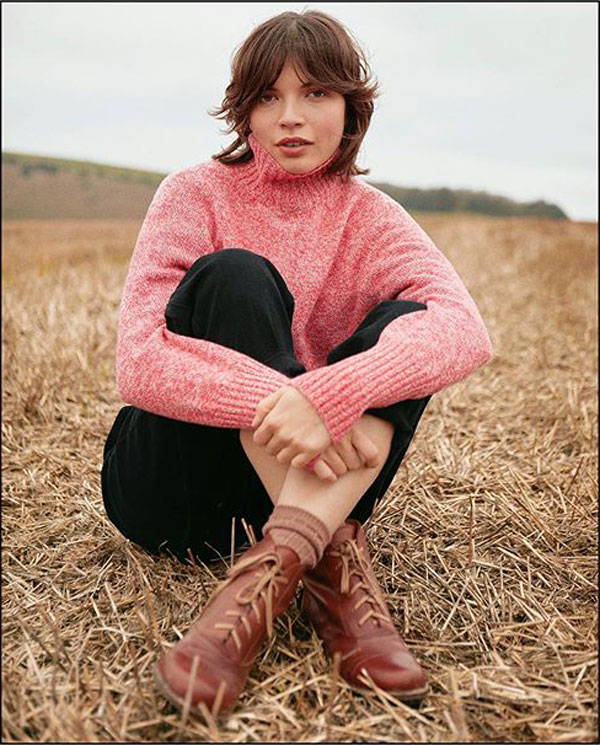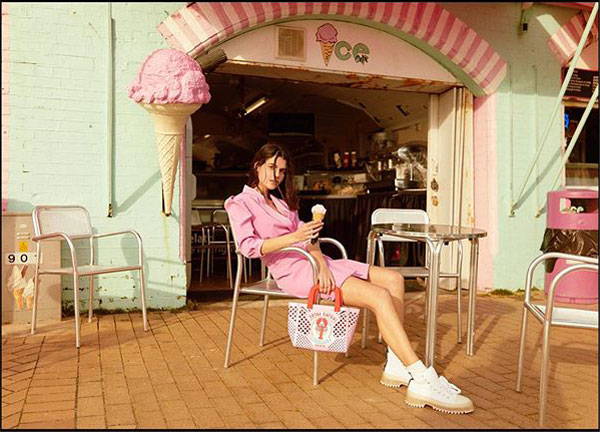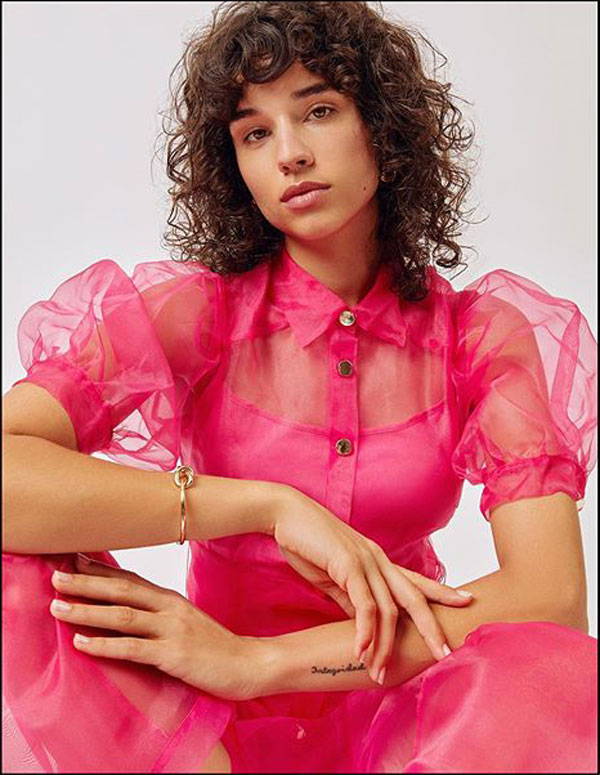 pics by @pollyhanrahan for:
@sideline_ww
@skinnydiplondon
@hellofashion_uk
1. Talking Heads
Stop Making Sense 

Every time I am miserable, I put on the Talking Heads and instantly I am HAPPY.
Stop Making Sense is a live album, which maybe cheating, but it contains so many hits, and is such an iconic live show I can watch over and over again.
This particular song reminds me of an epiphany moment I had after a birthday a few years ago. It's definitely one of my favourite songs and probably always will be.
2. Toots & The Maytals
Funky Kingston
My Dad played a lot of ska music when I was growing up, so this is nostalgic for me, but also it's what I genuinely enjoy listening to most days. It always makes me feel happy and relaxed. Toots is the king.
3. Black Eyed Peas
Elephunk
This reminds me of being 12 years old at secondary school; I knew every lyric on EVERY song and would listen on repeat on my Walkman. It's still a great album today. This song in particular reminds me of dancing at nappy nights (don't judge me)
I was 14 when this album came out but I actually got really into it in 2010 when Gorillaz had a comeback and started touring. This song is an absolute classic. I am a huge Damon Albarn fan, Blur should really be in my top 10, but I chose this instead.
5. MGMT
Oracular Spectacular
This album is extremely nostalgic for me, it reminds me of going to Shepherds Bush Empire with my friend Bianca when we were 17 to try and sneak into their show with no tickets (we met the drummer and wangled our way in). This particular song is nonsense, but still a pure banger.
6. The White Stripes
Elephant
I listened to everything Jack White has touched, on repeat, for most of my early twenties. Many an hour has been spent head-banging to this song.
I'm a huge fan of FKA Twigs, her music and her performances. She is unlike anyone else. I listened to this album a lot when I first moved to London after graduating from Uni and was feeling quite vulnerable, it reminds me of that time.
I had to pick a Beyoncé album because I have been a fan since I was literally a child and she keeps getting better. The Homecoming show was probably the best festival headline show OF ALL TIME (Kanye voice), literally pure art, and I listen to the album version a lot.
It's hard to choose one song as the whole show flows as one perfect thing, but Crazy in Love is a classic and this live arrangement is so so good.
9. Kano
Hoodies All Summer
My boyfriend has always been a huge Kano fan and I wasn't particularly interested until I saw him live at Glastonbury and it blew my mind. This is definitely my favourite album of 2019, it's so important, and this song is pure joy. I encourage people to watch the music video for this, it is so uplifting. 
10. Vampire Weekend
Father of the Bride
This album was the soundtrack to 2019 for me; it particularly takes me back to a sunny Saturday morning at Glastonbury 2019 when Vampire Weekend played a secret set.
Oh how simple life was.
This song is the perfect blend of happy/sad and I felt like I knew it on my first listen, which is always a good thing.
Listen To Polly's 10 of the Best on Spotify
I suppose it depends what defines 'gig'... If it's live music then probably one of the 'Party in the Park's in Brighton in the late 90s!!
I also saw Atomic Kitten live when I was about 10. Pretty cool. 
What was the last gig you went to?
I went to see Kano at the Dome in Brighton at the end of 2019. It was honestly one of the best shows I've been to - he puts on an incredible live show, and the atmosphere was amazing.
(It should have been Toots & the Maytals in May but that was postponed because of the virus)
What's your favourite festival that you've been too?
Glastonbury - without a doubt. To be fair I haven't been to loads of festivals, but I have been to Glastonbury 7 times and it is the most magical place on earth. I can't see anything else comparing (although Reading when you're 17 is pretty fun) 

What is a deceased band or artists you wish you were able to see live?
Probably Bob Marley, sorry if that's cliché.
I have seen The Prodigy twice already but was desperate to see them again, it was so sad when Keith Flint died last year. Their live shows were like nothing else.
What is a new artist or band that would love to see live?
I am very guilty of not listening to much new music, and most of the new music I listen to I have already seen live... I still haven't seen my two most listened to artists, Talking Heads or Toots, so they are top of my list in every way. Sorry new artists!!  

Thanks so much Polly - we are still seriously loving that Black Eyed Peas 'Elephunk' shout. 2003 was the one! 
To all you reading, go check out Polly's photography work here. It's so damn good!
---